New Perspectives on Lent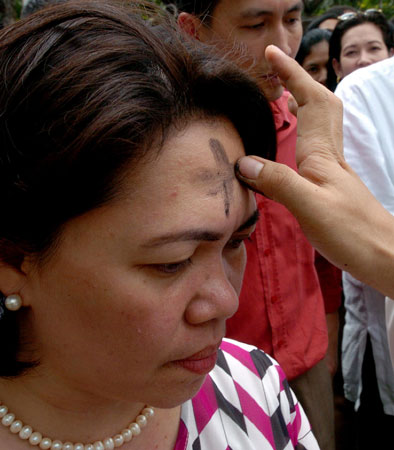 As a Baptist, I don't normally give much thought to the
liturgical calendar
of the church, let alone the observance of
Ash Wednesday
and
Lent
. But my friend
Michael Westmoreland-White
has just posted
Lent: One Baptist's Perspective
on his
blog
that has challenged me to reconsider.
Michael explains the reasons that the early church adopted lent:
When the emperor Constantine made Christianity legal (and Theodosian made it the official religion of the Empire), suddenly there were far more Christians--with far lower levels of commitment than when Christians were persecuted. Suddenly, it was hard to tell Christians from everyone else. Lent--the 40 days prior to Easter--was instituted to help Christians remember that they were disciples of Jesus and needed to be different. The practice of fasting (later just giving up eating meat or some other food item or giving up something cherished) was to instill spiritual discipline and guide the believer's focus on Jesus journey to the cross. Lent is to help us lead cruciform lives.
Here in the Bahamas, we find ourselves in similiar circumstances to those of Christians under Constantinian Rome. Like them, we too live under the domination of Empire. First the Spanish, then the British and, currently, the neocolonialism of
Pax Americana.
Christianity is the prevalent religion in the Bahamas, claiming 92% of the population, and most Bahamians believe that we live in a "Christian Nation."
For most of us, being a Christian is clearly an important part of our family heritage and national identity and, likewise, frequently translates into some sort of committment to participate in the worship and activities of a local church. But for the most part, we are cultural Christians--meaning that our faith often has little impact on our lives outside the narrow confines of our church activities and national ceremonies. Put differently, our Christianity does little to address the spiritual and social crises facing our country.
But as followers of Jesus Christ, we have been called both to be different and to make a difference in the world. Observing Ash Wednesday and Lent, then, is an opportunity to recommit ourselves to this most important task.
So next year, just maybe, I'll make it a point to find and attend an Ash Wednesday service. In the meantime, I'll be thinking long and hard about what I can do--as a follower of Jesus Christ--to make a difference in the world.
Labels: Ash Wednesday, Lent, liturgical calendar